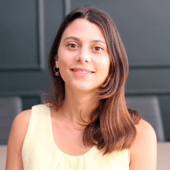 Kathleen Brandao
RS TA Team Lead – Human Resources
Kathleen is a 29 years old French national, based in Malta for five years. After graduating in 2017 with a Master's in human resources she decided to come to our sunny island to become fluent in English. She managed to overcome any linguistic weaknesses while working in a field she's passionate about, which Kathleen sees as a great personal and professional achievement. 
Now part of the Enteractive family, Kathleen feels that she can truly be herself - bubbly, outgoing, and helpful in working with amazing people.
Her motto at work: Do not forget that employees are the real essence of an organisation!